The honeymoon is over
Now in week 4 of the COVID-19 pandemic, the quarantine honeymoon is over. Reality has fully set in. The kids aren't going back to school. Spring break is canceled. Summer vacation is on hold. At best, we are working from home indefinitely. And, the hashtags #socialdistancing and #stayhome are going nowhere fast.
No escape
There is no escape from the littles. They pop up everywhere – from behind the sofa, when you're on your Zoom conference call, or when you're finally bathing and putting on real clothes after marinating in "quarantine funk" for the last two or three days. They clearly have tapeworms because they want to eat like every 5 minutes, and yet I still never know what's for dinner. Their bedtime grows later and later, and screen time limits have been tossed aside. The new normal has arrived in all it's quarantine splendor.
Making marriage a priority
So, how exactly are the hubby and I supposed to make our marriage a priority when there is no escape? Well, it's a good question. Thankfully, I've got answers – well at least some that work for us.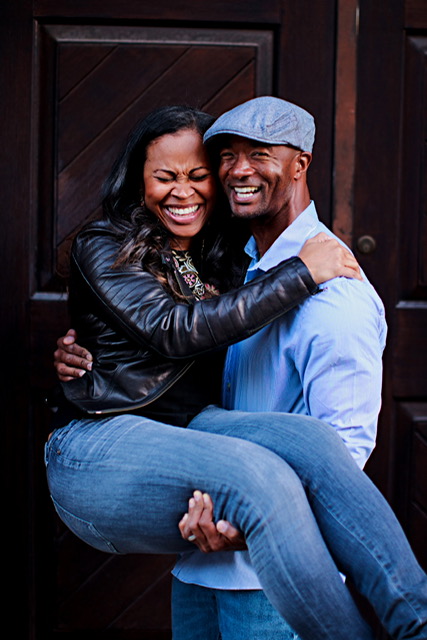 Kenneth and I have been married seventeen years. I don't even feel old enough to have been married that long but I have. Thankfully, there is no one else I would rather be quarantined with than my handsome hunny bunny. However, finding time to ourselves for ourselves has proven quite the challenge. Oftentimes, we are waiting until the kids go to bed but this chick gets super sleepy as the evening wears on which means we have to maximize daytime connection, too.
Dr. Leesha's TOP 11 TIPS for keeping marriage sexy during the COVID-19 quarantine:
The most important tip is NO SOCIAL DISTANCING from your significant other. Duh! There can be no connection, no intimacy if you isolate from one another.
Be intentional – Set aside time for your spouse daily. On busy days, it may be a quick 15 minutes to check-in with one another; but on less stressful days block out the entire evening for love.
Get physical – Nope, I'm not talking about sex though sex in marriage is very important. I mean work out together. Kenneth and I work out together nearly every day. Exercise triggers the release of feel good hormones called endorphins. Plus, sweat equity can be very sexy – muscles popping out, sweat on the brow, clanging iron in the background. You get the picture.
Bathe together – After that sweaty workout, what better way to relax and connect than to take a relaxing bath complete with a glass of wine and lots of bubbles.
Cook each other's favorite meals and do it together – Let's face it. Money is tight for many of us, and curbside pick up gets expensive. Why not spend time together preparing meals together.
Continue (or start) to schedule date nights at some regularly scheduled interval. You can still "Netflix and chill" on quarantine.
Write each other love letter – While texting is the preferred method of communication these days, a handwritten love letter is a beautifully heartfelt way to express your love and adoration for your spouse.
Plan a romantic dinner al fresco – Spring is here. The days grow longer, flowers are blooming, and the weather is absolutely gorgeous. Why night dine together outside as the sun begins to set. Dress up, too.
Have a dance party – Jam to some of your favorite songs, old and new. Macklemore's words ring true, "Music is therapy. Music moves people. It connects people in ways that no other medium can. It pulls heart strings. It acts as medicine."
Plan trips together – What about scheduling 1 or 2 or 3 couples' trips for 2021. Most families take family vacations at least once or twice a year, so why not take a grown and sexy couples' trip with your spouse. Now you have the same to decide on a few places to go – maybe a staycation at a swanky local hotel, or a rustic getaway where you can commune with nature, or the beach or the mountains, or a fabulous international trip. Get that map out and start dreaming and planning.
Pray together – Spending time daily with God in His word and in prayer are essential for cultivating a rich and fulfilling vertical relationship with our Lord and Savior. I believe that couples should also pray with their spouses daily. The spiritual intimacy that develops between that couple as they pray together beautifully and purposefully deepens their relational intimacy.