Come November and we begin to hear Andy Williams song, "It's most the wonderful time of the year." Except it isn't. For so many, the holiday season engenders feelings of loneliness and stress. Less love, holiday parties, and family gatherings and more debt, family drama, and grief and loss. And more focus on who and what is missing and all that is wrong rather than the joy of the holiday season and all that is right. Ever felt this way? If so, it could be the holiday blues.
Got a Case of the Holiday Blues?
The holiday blues is a real phenomenon and refers to the feelings of sadness that many experience during the months of November and December. A 2015 Healthline study found that over 60% of adults experience some degree of stress during the holiday season. Another study showed that 88% of respondents describe the holiday season as the most stressful time of the year. The most commonly cited reasons are financial stress, finding the "perfect" gift, conflict-laden family gatherings, loneliness, and unrealistic expectations. These reasons make sense when you consider the hustle and bustle and overall busyness of the holiday season filled with holiday parties, big crowds, and protracted shopping excursions.
What Happens If?
You don't have enough leave/PTO to take time off during the holiday season?
You are single – divorced, widowed, not dating, or recently ended a relationship?
You feel isolated with no family close by, no close friends or friends who already have holiday plans, or too much family drama?
You lost your job or your work hours have decreased, and you don't know how you will be able to afford to buy gifts for your children?
There are empty chairs at your dining table, serving as painful reminders of those loved ones who have died ?
Or you reeling from the stark contrast between the fantasy of the holiday season vs. the reality. The decorations fall short compared to neighbors. There are too few gifts sit under the tree. There is too much merrymaking that leads to overspending, overeating, and excessive drinking?
All these challenges undoubtedly cause sadness, irritability, worry, or despair and often exacerbate underlying depression and anxiety. Symptoms of the holiday blues are similar to that of Major Depressive Disorder (MDD) but are milder and time limited; the symptoms remit early January. These symptoms include: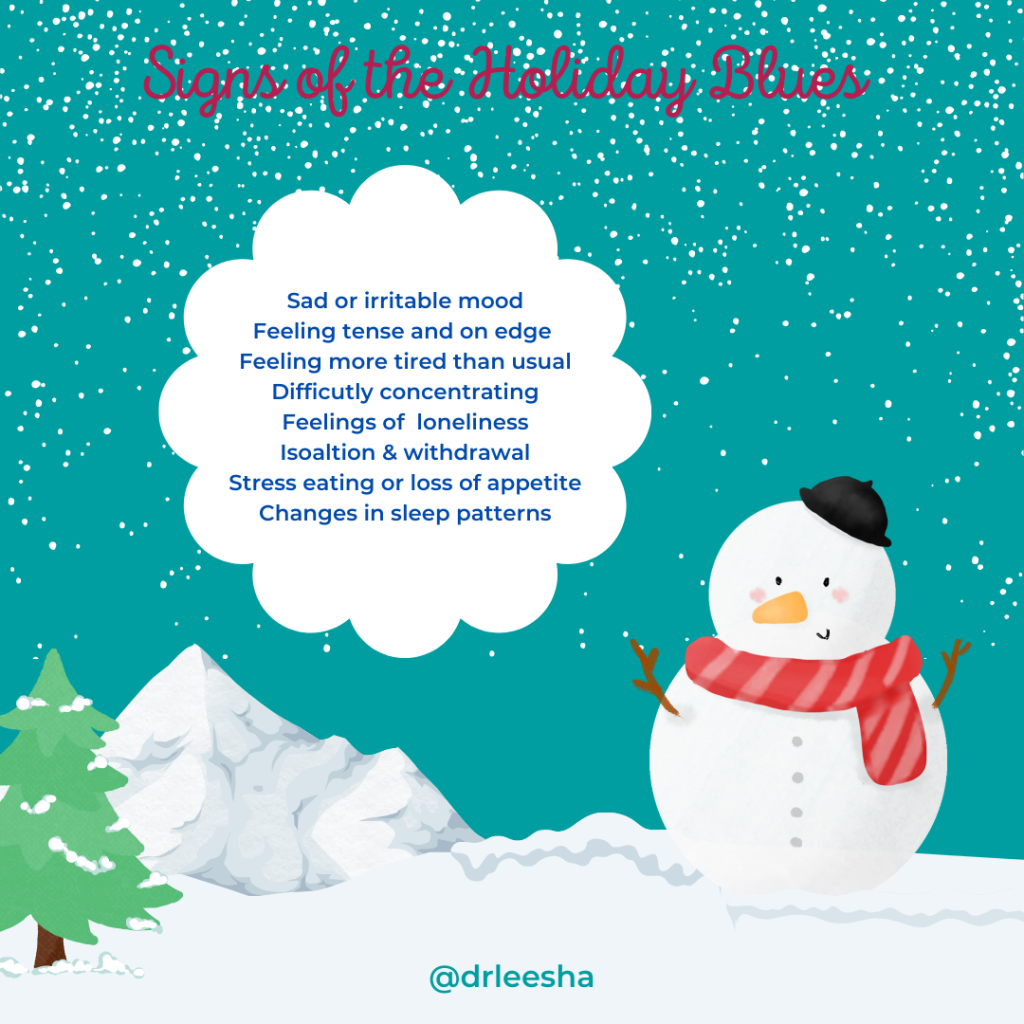 Seasonal Affective Disorder (SAD)
Seasonal Affective Disorder (SAD) or seasonal depression is a form of Major Depressive Disorder occurring during certain months of the year. While the holiday blues usually start around November or December and end as the new year arrives, SAD begins during late fall and doesn't end until the spring or summer months; this is known as winter-pattern SAD. Melatonin and serotonin are two brain chemicals that help maintain the body's daily rhythms and sleep-wake cycle known as circadian rhythms. Research suggests that low vitamin D and changes in levels of sunlight during the fall and winter months also disrupt these circadian rhythms and can cause SAD. There is also summer-pattern SAD, but this subtype is much less common. Seasonal Affective Disorder affects about 5% of the population and is more prevalent in women. The symptoms of SAD are very similar to those of the holiday blues but are longer in duration and more severe.
There are unique symptoms for winter-pattern SAD. Imagine a bear hibernating during the frigid winter months.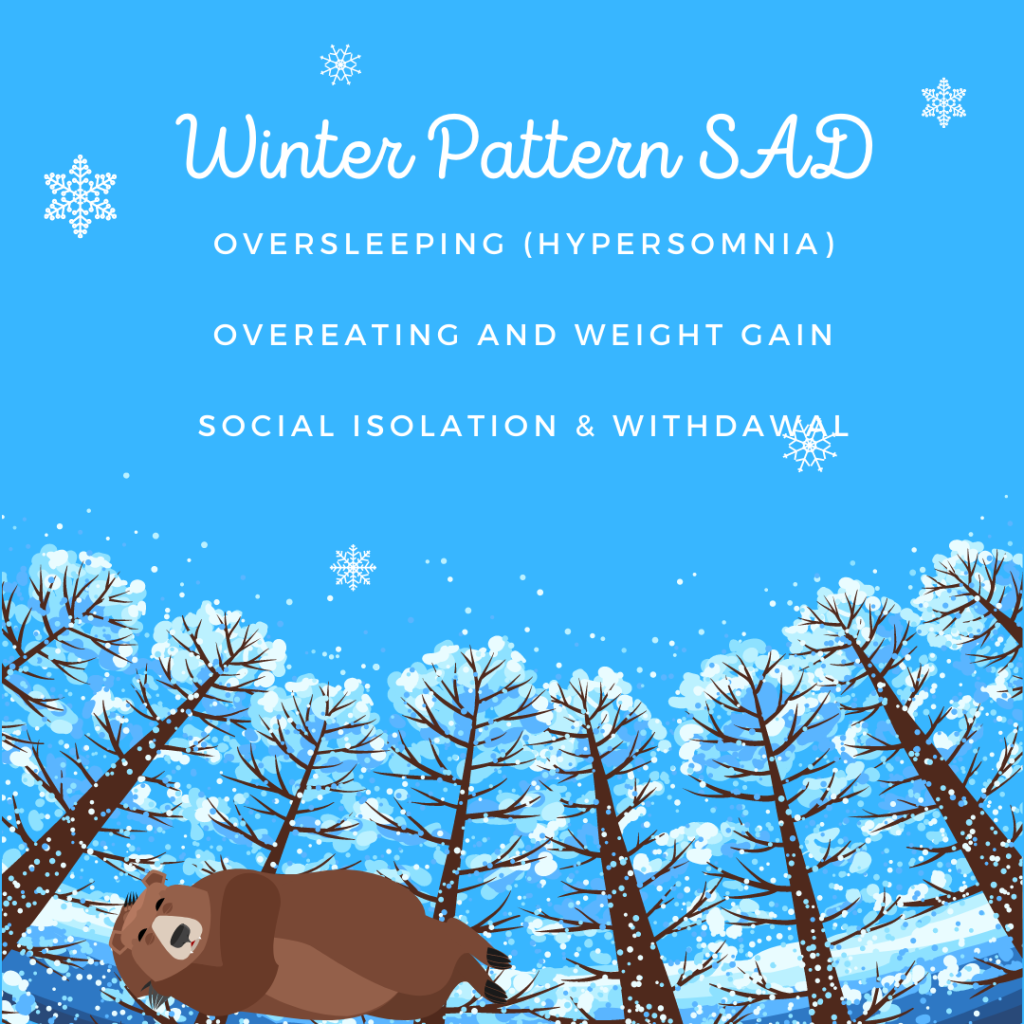 For summer-pattern SAD, specific symptoms include: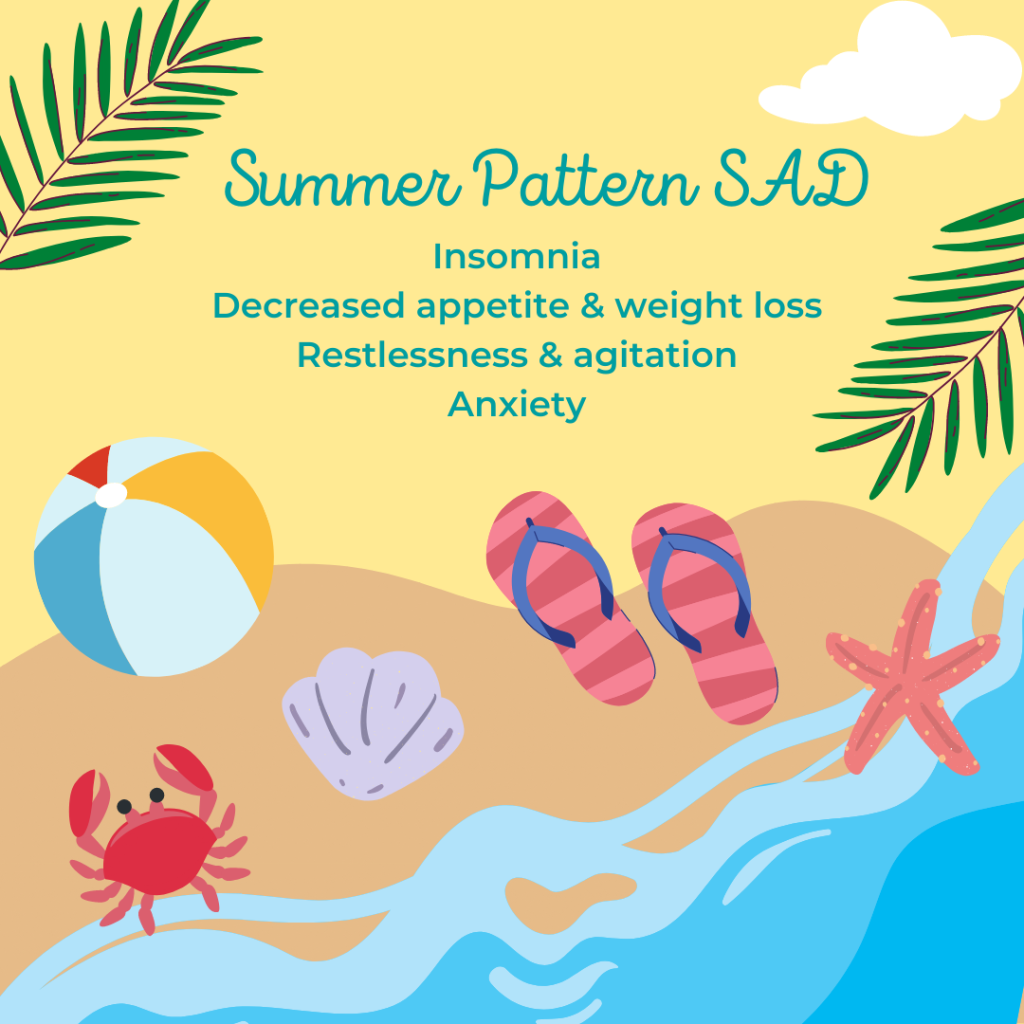 Various treatment options exist for SAD such as antidepressant medications, talk therapy, and light therapy. Antidepressant medications like Fluoxetine, Sertraline, and Duloxetine decrease the severity of symptoms. A therapist can teach individuals stress management tips, process feelings of grief and loss, and identify and correct negative thought patterns caused by depression. Light therapy uses a light box which emits bright light that mimics natural sunlight. This bright light affects the chemicals in your brain that impact mood and sleep. A light box needs at least 10,000 lux of light and works best when used daily within the first hour of waking up in the morning for 20 to 30 minutes. The light box should also filter out UV light because it can damage the eyes and skin.
Overcoming the Holiday Blues
So, how can we emerge from the holiday funk? Here are a few holiday music-themed strategies to lift the heaviness of the winter months:
Give Love on Christmas Day – Give to those in need by volunteering at a nursing home or homeless shelter, supporting a non-profit organization whose cause matches your values, granting a child's wish from an angel tree, or reading books to children at local schools. Be mindful of local COVID-19 regulations.
What Child is This – For believers, the commercialism of the Christmas holiday does not align with spiritual beliefs. Focus on Jesus, the reason for the season. Show kindness. Practice gratitude. Set aside familial differences and mend strained relationships in the spirit of love and in celebration of the miraculous birth of Christ.
Silent Night – Make time for rest. Forego the urge to overdo it at holiday parties, when shopping for gifts, or when decorating your home for the holiday season. Set a budget and stick to it, make handmade gifts, or start a gift exchange. Select two or three events and activities to attend rather than trying to make them all. Limit alcohol and sugary sweets.
Rockin' Around the Christmas Tree – Get moving. Bundle up and go outside for a walk with friends and soak in some vitamin D. Make it your goal to exercise for at least 150 minutes weekly.
Deck the Halls – Establish new holiday traditions. Focus less on buying things. Instead discover ways to create fun-filled experiences with people you love. Start a neighborhood cookie exchange, drive around town to look at Christmas lights, or make a holiday music play list.
Have A Holly Jolly Christmas – It's holly and jolly alright but fight the urge to indulge in too much merry making. Overspending and overeating often leads to guilt, so make a plan ahead of time for your money and your tummy and find someone to keep you accountable.
All I Want for Christmas Is You – Grief and loss are often difficult but even more so during the holiday season. Don't pretend as if all is well if it isn't. It's okay to acknowledge the pain of your loss. Everyone deals with grief differently and in their own time. When you're ready, you can celebrate the life and memory of those who have died by creating traditions to honor their time on earth and their legacy. Things like cooking a favorite meal, watching a favorite movie, leaving an empty chair at the table, lighting a candle, or creating a memory box are simple yet heartfelt reminders.
Blue Christmas – Breakups and divorce can be incredibly hard for individuals and families. Try to plan ahead, so you don't end up unprepared or alone because you didn't consider whose turn it would be to have the kids during the winter break. Host a get-together with friends, family, or colleagues so you can avoid being alone during the holidays. Choose to focus on the good that still exists despite your current circumstances.
Santa Baby – The holidays are particularly stressful when money is tight. Remember that neither your identity nor your worth are tied to a job or how much money you have in the bank. Let go of the shame. Give handmade gifts. Write letters to the people you love. Or set a budget and actually stick to it. Going into debt or increasing your debt worsens the stress.
Unrelenting Sadness…
If the sadness and irritability doesn't dissipate, get help. Contact your primary care physician who can refer your for mental health services. Alternatively, you can call your insurance company for names of local therapists and psychiatrists or your local mental health center if you are uninsured. Getting helps leads to healing and restoration.
You got this! You feelings are valid, BUT you are not your thoughts. Neither your situation and circumstances nor your past define you. You are loved. You can challenge and correct that stinkin' thinkin'. You can and should treat yourself with an abundance of kindenss and compassion. Becauase the truth is the glass is neither half-empty or half-full – it's refillable! Fill that cup, baby!